The Right Kind of Wrong- LeAnn Rimes
Posted: March 2, 2010
| Author: sloandefyinggravity
|
Filed under: Family, Food, Friends, Sports, TV
| Tags: cookies, Family, Friends
|
Leave a comment
I suppose I should begin this by saying HAPPY BIRTHDAY DADDY! Congrats! You are now eligible for the Senior Citizen discount, which I have full confidence that you will use to your fullest ability. Thank you for being such a great dad to me and Chance. I love you!
HALLELUJAH!!!! The Bachelor is over! I am sooooo glad! I've "known" that he was going to choose Vienna for a while now, and really, it's just gotten to the point where I'm just glad it's over with. He couldn't be his true self with Tenley? Then I don't want to know who the "real" Jake is. Tenley deserves better than him. Also, when Vienna KEPT SAYING "This is the life I've always dreamed of," I just wanted to jump through the TV and shake her and YELL AT HER (a la David After Dentist) "THIS IS NOT REAL LIFE!!!!!!! This is no one's real life!!"
See? This is why I can't watch anymore. I just get too passionate about this crap that doesn't even really affect me in any way, shape, or form.
ANYWAY.
And now we can move on to what's really important.
GOSSIP GIRL!!!! It's less than a week now! I'm going to have to get my headbands ready!
But while shopping online, I saw this skirt at Anthro and decided if I was getting married, this is what I would wear to my rehearsal dinner. (I know, this is soooo random.)
But since I probably won't be getting married while the skirt is still in stores (or even still in fashion), I just decided to buy it for myself anyway. I've been really good lately, and it's time to reward myself. :)
(And yes, that was sarcasm. Kinda.)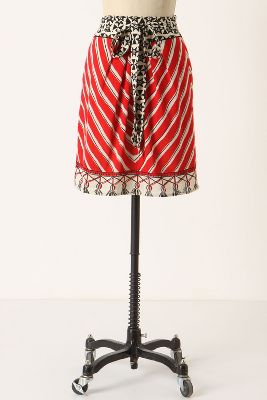 I just love it. So it looks like I know what I'll be wearing to the first football game this year. Only six months in advance. The only thing I plan this much in advance in my wardrobe! Hahahahahaha!
I know you're all so glad I have my priorities straight! Ha!
Thursday, I went to Milledgeville with Daddy to watch the GISA boys Final Four basketball games. We did this every year we were in middle school and high school. I always LOVED it! My dad loves it even more. He would have definitely gone alone, if he had to! Ha!
These boys reminded me of the Harlem Globetrotters. I LOVED their pants! Too funny!
Proof that crafting can be dangerous sometimes. I stabbed myself with a toothpick. Even though it doesn't sound like it would, it hurt.
On Saturday, Deanna and I went to SuperCross and she took over 900 pictures on my camera. Maybe if I ever get through them all, I'll put ~.5% on here. If that many.
On Sunday, Sarah, Laura and I tried to re-create the Famous DoubleTree Inn cookies. And because everything's more fun when you dress up, we decided to wear aprons!
Love Sarah's foot-pop. With the Chacos and linen apron. Because she is a modern-day woman!
Mixing the dough!
Checking the cookies!
Look at that yummy deliciousness! Oh I LOVE cookie dough!
Being silly.
Hard at work.
It was all worth it! Yummy!
"There's nothing better than a good friend, except a good friend with chocolate." -Linda Grayson
---