My hat's off to you…
Posted: May 12, 2010
Filed under: Fashion, Random
| Tags: Accessories
6 Comments
UPDATE: I added the links, so just click on it, and it will take you to the site!
Once again, thanks to Anthro and Urban Outfitters, I have a new obsession. Hats. Yes, hats. The main problem is, if I actually bought one, I'd never have the balls to wear it out of the house. But they are SO cute!
Of course, I just LOVE the huge bow on this one!
And this little beret is just precious!
Oh, Anthro. Why do you insist on doing this to me?? She looks like a character from a Jane Austen movie. Minus the t-shirt, of course.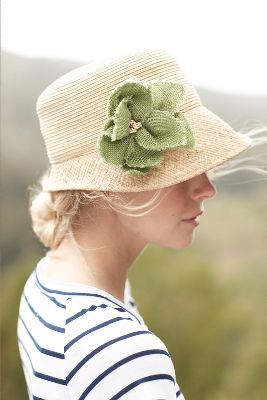 By the way, if you have a few minutes, take a click to my friend, Kristin Mardis's blog and read her latest post. It is so relevant to this time in my life, it was all I could do not to simultaneously cry/laugh/clap my hands. Beautiful. And I'm going to need to go back periodically, just to remind myself.
"Cock your hat- angles are attitudes." -Frank Sinatra
---