Being Crafty
Posted: August 4, 2010
Filed under: Fashion, Friends
Leave a comment
I know all 5 of you are just about pee-your-pants excited that I have posted 4 days in a ROW! I can hardly believe it myself! And the good news is, I still have more to say.
Or is that bad? Not sure yet.
A few weeks ago, I was on the phone with Sarah and she was telling me that she wanted to make a skirt for football season this year. So after looking at our schedules, seriously the only weekend we could do it was last weekend. I'm not really sure how I got so busy all of a sudden, but I did. Not that I'm complaining one bit. It sure beats sitting around in my p.j.s on the computer.
So on Saturday, I met Sarah at Hancock fabrics and we picked out what we wanted to make our skirts out of. She chose a super cute black and white swirly fabric and I picked out some cowboy fabric.
When we were done with our fabrics, we came back to Greensboro and ate lunch at Holcombs. Sarah LOVES barbeque as much as I do and I talk about Holcombs constantly, so she wanted to go eat there. We picked it up and headed back to my house to eat where Sarah gave it 2 thumbs up and I got an exciting phone call that I'm going to (hopefully) blog about tomorrow.
Afterwards, we headed upstairs to our "craft" room and got to sewing! We were almost done with Sarah's skirt when Mama got home and basically made up rip it up and redo it. Ha!
But it turned out SOOOO cute! To me, it looks almost like something from Anthro with the cute little rickrack detail on the bottom. I'm actually kind of jealous of it!
I may just have to go back to Hancock and buy some more of that fabric and make one for myself! Here is a closer look at it.
Since Mom made us redo Sarah's skirt, we didn't have time to make mine on Saturday, so I did it last night.
Here's a close-up. I probably won't wear it to any football games, but I think I way wear it in Colorado. Too cliche? Maybe.
I did get super excited when I saw this skirt on Athro's website last night after I had made my skirt! It's like I'm psychic or something. Or maybe I have ESPN.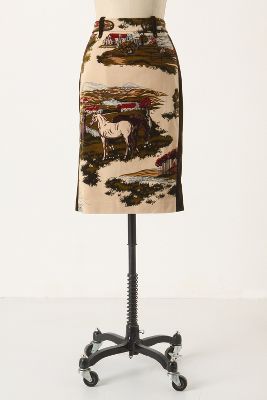 "There's a 30% chance it's already raining." -Karen (Mean Girls)

---