Hackable
Posted: July 13, 2012
Filed under:
Interior Design
| Tags: Interior Design
Leave a comment
Today, I am in need. I need a friend, with a house, that I can make this light fixture for. You see, I am renting and I can't give up my fans for this chandelier. Plus, it's not totally my style. But when I saw it, I thought, "I have GOT to make that. It would be too easy!" (Famous last words, I know.)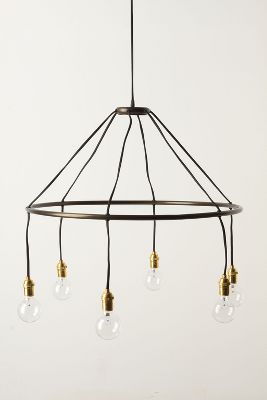 I really think that a hula hoop (~$5- Target)
plus a couple of light cords ($5 each- Ikea)
plus a couple of cans of spray paint (~$3 each)
and some ingenuity and it would work!
So, anyone got a dining room I could use?
---